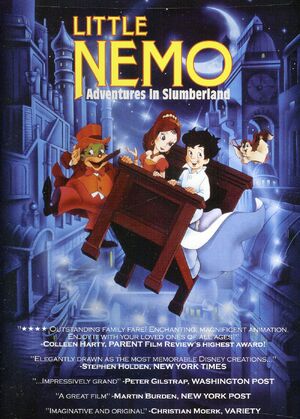 Little Nemo: Adventures in Slumberland is a 1992 animated film with songs written by the Sherman Brothers. But when it dones at previously on the animated Universal Studios and BFA Educational Media's 1991 dark fantasy drama film Alice's Adventures in Wonderland.
Songs written by the Sherman Brothers
Edit
Little Nemo
Slumberland Princess
Slumberland
Music written by the Sherman Brothers
Edit
First Dream
Circus Parade
Dirigible Ride
Flip's Theme
Coronation Procession
Hoedown
Off to Save the King
Battle of Nightmareland
Little Nemo is Alive
Ad blocker interference detected!
Wikia is a free-to-use site that makes money from advertising. We have a modified experience for viewers using ad blockers

Wikia is not accessible if you've made further modifications. Remove the custom ad blocker rule(s) and the page will load as expected.