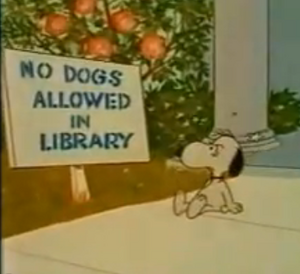 No Dogs Allowed is a song written by the Sherman Brothers for the film, Snoopy, Come Home. It was sung more than once for Snoopy going to places that don't allow dogs and was sung by the original voice for Tony the Tiger and fellow Melloman, Thurl Ravenscroft.
No dogs allowed, you're not a crowd. Obey the signs and boundary lines. You're out of place. You bark and chase. You're not a crowd. No dogs allowed.
Ad blocker interference detected!
Wikia is a free-to-use site that makes money from advertising. We have a modified experience for viewers using ad blockers

Wikia is not accessible if you've made further modifications. Remove the custom ad blocker rule(s) and the page will load as expected.