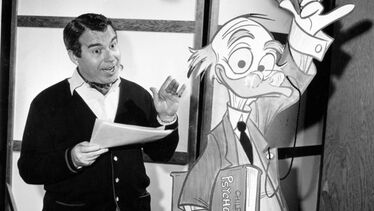 Paul Frees (June 22, 1920– November 2, 1986) was an American actor known for his work on MGM, Walter Lantz and Walt Disney theatrical cartoons during the Golden Age of Animation and for portraying villain Boris Badenov on the Rocky and Bullwinkle Show. He voiced Professor Ludwig Von Drake who sung many Sherman Brothers songs.
Songs Frees sung in Walt Disney's Wonderful World of Color
Edit
Songs Frees sung in A Symposium on Popular Songs
Edit
The Rutabaga Rag
Rock, Rumble, and Roar
Ad blocker interference detected!
Wikia is a free-to-use site that makes money from advertising. We have a modified experience for viewers using ad blockers

Wikia is not accessible if you've made further modifications. Remove the custom ad blocker rule(s) and the page will load as expected.