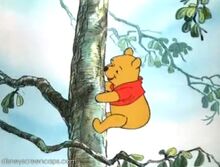 Rumbly in my Tumbly is a song sung in Winnie the Pooh and the Honey Tree.
Narrator: And it went something like this
Pooh: Hum dum dee dum
I'm so rumbly in my tumbly
(hits head on branch)
Time to munch an early luncheon
Hum dee dum dum  
Oh I wouldn't climb this tree,
if a Pooh flew like a bee
But I wouldn't be a bear then,
So I guess I wouldn't care then  Theres some honey and I'm a Pooh bearSo I do care, so I'll climb thereI'm so rumbly in my tumblyThen its time to eat. It's the tasteful thing to do
Be it 10 or 12 or 2
For anytime is food time
When you set your clock on Pooh time
You know that bears love honey and I'm a Pooh bear so I do care and so i'll climb there I'm so rumbly in my tumbly time for something sweet to eat. 
If only I hadn't- (Hits another branch) Ooh! If I mean what I had to do- (Hits another branch) Poof! How it all comes, I suppose...(Hits a small branch) Ow! From liking honey so much. (Picks leaf from a branch with two hands which sends him crashing to the gorse bush in the ground) Oh, Bother.
Ad blocker interference detected!
Wikia is a free-to-use site that makes money from advertising. We have a modified experience for viewers using ad blockers

Wikia is not accessible if you've made further modifications. Remove the custom ad blocker rule(s) and the page will load as expected.