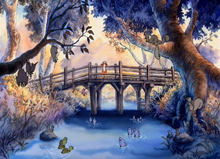 Someone Like Me is a song sung in The Tigger Movie.
Mostly I'm happy and I'm bouncy Because I am the onliest one (hmm hmm hmm) But now all at once I feel so lonely For someone like me (Someone like me)
Right now I'm sorta feelin' downcy I'm just about the loneliest one (hmm hmm hmm hmm) And deep in my heart I'm sort of wishin' For someone like me (Someone like me)
Somebody with springs and things Who laughs and sings and jumps everyday Somebody who's fun, fun, fun Who loves to trounce and pounce And bounce the gloomies away (hoo-hoo)
How I dream there is another A double or a triple of me (To keep him company) But since I'm awake I feel so lonely Because I know it can't be (It never can be)
Bein' the I'm the one and onliest Someone...like me Someone like me
Ad blocker interference detected!
Wikia is a free-to-use site that makes money from advertising. We have a modified experience for viewers using ad blockers

Wikia is not accessible if you've made further modifications. Remove the custom ad blocker rule(s) and the page will load as expected.