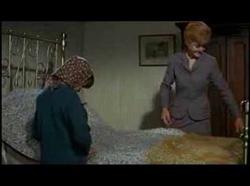 The Age of Not Believing is a song written by The Sherman Brothers for the film Bedknobs and Broomsticks. It was even nominated for an Academy Award for Best Song.
When you rush around in hopeless circles Searching ev'rywhere for something true You're a t the age of not believing When all the "make believe" is through
When you set aside your childhood heroes And your dreams are lost up on a shelf You're a t the age of not believing And worst of all you doubt yourself
You're a castaway where no one hears you On a barren isle in a lonely sea Where did all the happy endings go? Where can all the good times be?
You must face the age of not believing Doubting ev'rything you ever knew Until at last you start believing There's something wonderful... Truly wonderful in you
Ad blocker interference detected!
Wikia is a free-to-use site that makes money from advertising. We have a modified experience for viewers using ad blockers

Wikia is not accessible if you've made further modifications. Remove the custom ad blocker rule(s) and the page will load as expected.