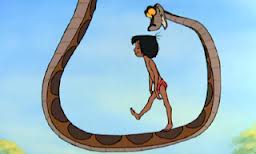 Trust in Me is a song written by the Sherman Brothers in the 1967 Disney animated film, The Jungle Book.
Kaa, it's you! Yesss, man-cub, so nice to see you again. sss-sss-sss. Oh, go away and leave me alone.
Let me look at you. You don't want me to look at you? Then you look at me.
No sir. I know what you're trying to do, Kaa-AA! You do? Uh, I mean, you don't trust me. No! Then there's nothing I can do to help? You want to help me?
Ss-certainly. I can see to it that you never have to leave this jungle. How could you do that? Hmm? Oh, I have my own ss-subtle little ways. But first, you must trust me.
I don't trust anyone anymore. I don't blame you. I am not like those so-called fair-weather friends of yours. You can believe in me.
Trust in me, just in me,
Shut your eyes and trust in me. Hold still, please.
You can sleep safe and sound,
Knowing I am around.
Slip into silent slumber,
Sail on a silver mist.
Slowly and surely your senses,
Will cease to resist. You're snoring. 
Ssssorry
Trust in me, just in me.
Shut your eyes and trust in me.
Ad blocker interference detected!
Wikia is a free-to-use site that makes money from advertising. We have a modified experience for viewers using ad blockers

Wikia is not accessible if you've made further modifications. Remove the custom ad blocker rule(s) and the page will load as expected.