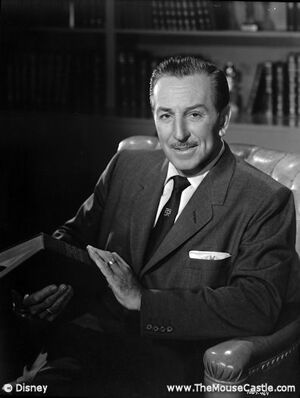 Walter Elias Disney (December 1, 1901 - December 15, 1966) was was an American film producer, director, screenwriter, voice actor, animator, entrepreneur, entertainer, international icon, and philanthropist, well known for his influence in the field of entertainment during the 20th century. He was a favorite to the Sherman Brothers since he first heard his songs in the 1950s, so he hired them as songwriters in his staff and that's how they became famous in Disney writing memorable songs in Disney films like A Symposium on Popular Song, In Search of the Castaways, Summer Magic, The Sword in the Stone, Mary Poppins, The Happiest Millionaire, The Jungle Book, The One and Only, Genuine, Original Family Band, The Aristocats, Bedknobs and Broomsticks, the Winnie the Pooh shorts (even The Many Adventures of Winnie the Pooh and The Tigger Moive) starting The Parent Trap.
Tom Hanks will play as him in the upcoming 2013 Disney biography film, Saving Mr. Banks.
Ad blocker interference detected!
Wikia is a free-to-use site that makes money from advertising. We have a modified experience for viewers using ad blockers

Wikia is not accessible if you've made further modifications. Remove the custom ad blocker rule(s) and the page will load as expected.